Master of Science in Healthcare Management (MSHM)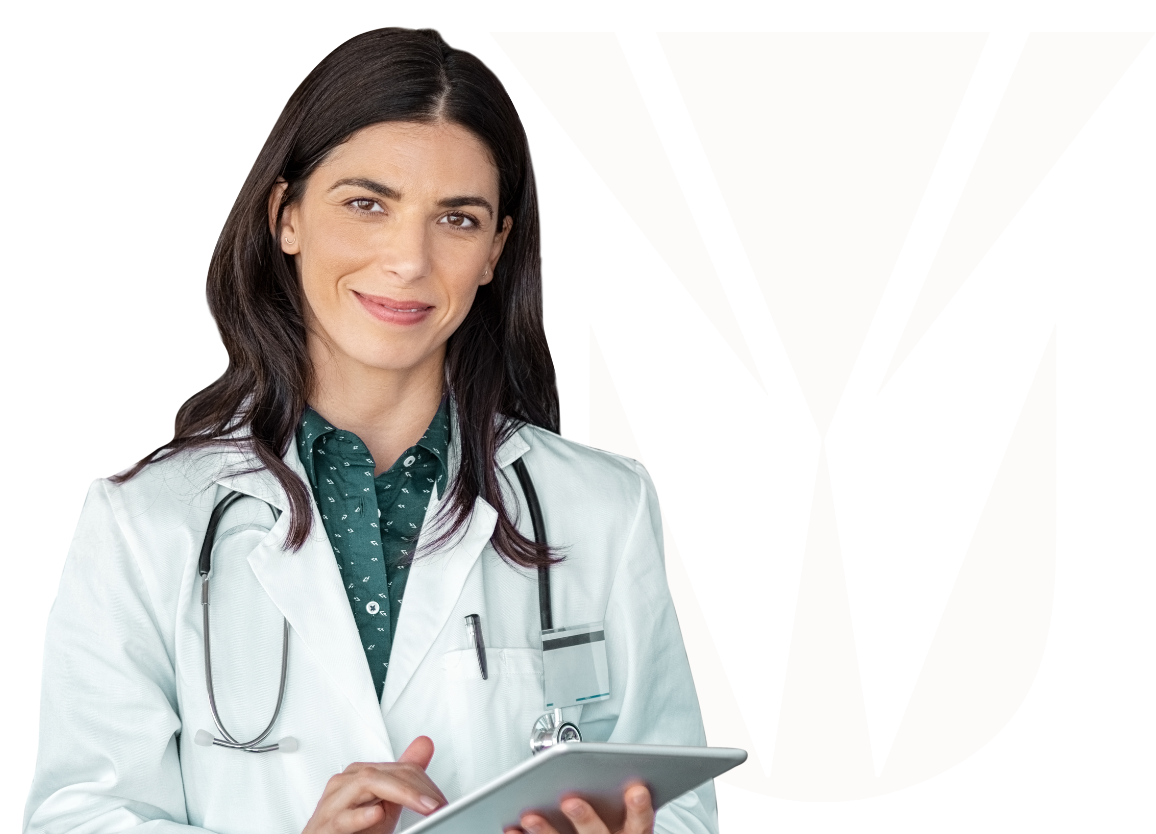 Expectations
Our difference
Benefits
Overview
Curriculum
Faculty
Costs & Fees
Requirements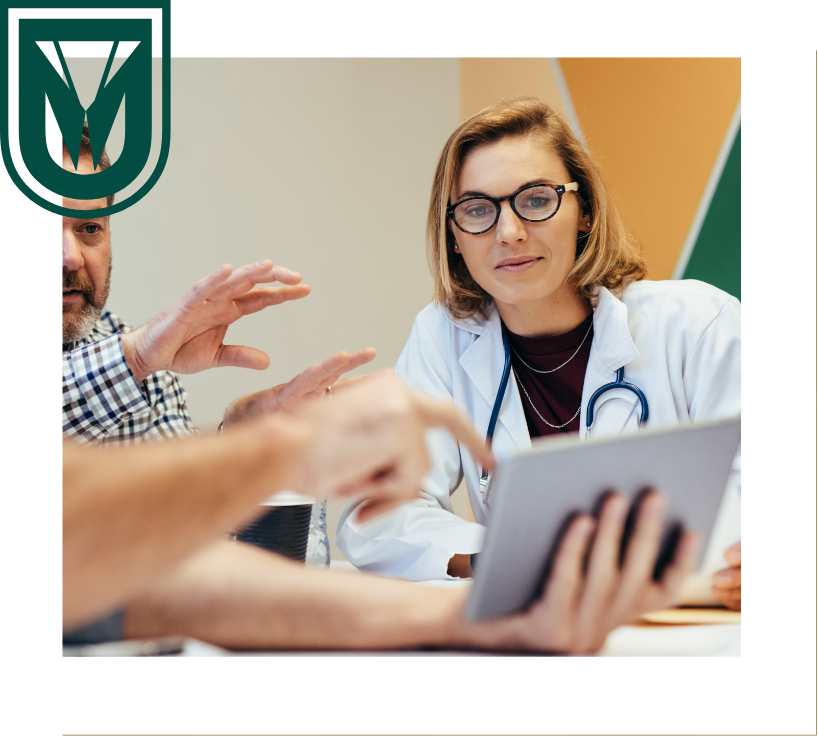 What you can expect from the program
At Vedere Institute, we are proud to offer a Master of Science in Healthcare Management (MSHM) degree that has its roots in measurable, real-world business success.
Over the past two decades, Access Health Care Physicians' proven business and leadership model has developed a reputation for excellence in the healthcare industry through its unique combination of patient-centered care, compliance excellence, service and business model innovation, and operational efficiency.
At Vedere Institute, we are excited to offer our MSHM program, designed to address the dynamic challenges and opportunities within the healthcare industry. Our goal is to cultivate tomorrow's leaders who understand the importance of transformation in healthcare and have the skills to bring about meaningful change.
Our MSHM program is designed to address the dynamic challenges and opportunities within the healthcare industry. Our goal is to cultivate tomorrow's leaders who understand the importance of transformation in healthcare and have the skills to bring about meaningful change.
What Makes this Program Different?
The MSHM program is a dynamic degree program, expertly crafted by industry leaders in healthcare. With a strong emphasis on practical application, the program is built upon the proven business and leadership model that has driven the incredible growth and success of Access Health Care Physicians over the past two decades. This program is truly designed for those who strive for excellence and wish to be at the forefront of healthcare.
Designed for working healthcare professionals, this innovative, hands-on program is defined by:
Our expertly crafted curriculum, designed by seasoned medical professionals and practitioners to reflect the current realities and priorities of healthcare management and delivery in the USA, ensures that you stay ahead of the curve

An ideal blend of business, management, and operations complemented by essential subjects such as quality, compliance, and Medicare Risk Adjustment, giving you a comprehensive understanding of the healthcare industry

An emphasis on practical application, equipping you with the knowledge, skills, and tools that you need to make an immediate impact in your role and organization and empowering you to drive real-world change and success
The MSHM program is the perfect choice for professionals who desire the competitive edge and career progression needed to excel in the rapidly evolving healthcare industry. How will you benefit from this program?
Our MSHM program is designed to help you take your career in the healthcare sector to new heights, as you prepare for senior leadership roles in healthcare practices and organizations. With this program, you will gain a comprehensive understanding of the healthcare industry and acquire the knowledge and skills you need to drive change and transformation, with the ultimate goal of delivering improved healthcare outcomes.
Whether you are working in a clinical, administrative, or any other role, you will find that the knowledge and skills you acquire throughout the program are readily applicable to your own work and organization, providing you with immediate value long before you graduate. The program is tailored to help you excel in your career, and provide you with the tools to make a significant impact.
Students enrolled in the MSHM program will learn how to:
Critically evaluate business and delivery models
Understand quality and compliance as drivers of success
Enhance leadership and management practice
Optimize resource utilization and service delivery
Program Overview
As a working healthcare professional, we understand that your time is valuable, which is why we have designed the MSHM program to be fully online, largely asynchronous, and highly flexible. The program allows you to determine the sequence of your courses based on your professional needs and interests, with the exception of the foundational Business of Medicine course, which must be completed first, and the Capstone Project, which must be completed last.
The program is offered in 8-week sessions across an academic calendar comprising 3 semesters and 6 sessions each year. Following your first session in which you take only the Business of Medicine course, you have the flexibility to take up to 2 courses each session, which means you can complete the program in a time frame that works best for you, anywhere from 14 months to 4 years. This flexibility allows you to balance your professional and personal commitments while you advance your education.
As a student, you will engage with a variety of recorded content, readings, and case studies, largely on an asynchronous basis, so long as you keep pace with the overall course schedule. The asynchronous learning activities will be supplemented by select "live" activities that will provide for structured interaction with faculty, fellow students, and invited experts and a deeper examination of core topics.
Key Details
Start Dates: 3x per year
Early May
Late August
Early January

Program Duration: 14 Months – 4 Years

Delivery Format: Online Learning

Course Length: 8 Weeks

Student Commitment: 12 – 15 hours per week, per course
Program Curriculum
We believe that in order to be an exceptional leader in healthcare, one must possess a combination of expertise in healthcare practices, exceptional leadership and management abilities, and a profound understanding of utilizing technology to enhance healthcare management and delivery.
With this in mind, the MSHM program has been built on four key content pillars:
Healthcare Fundamentals

Achieving excellence in healthcare delivery means staying on top of the trends, research, regulations, and best practices that are shaping the sector.

Business Essentials

Being an effective manager of teams,  functions and organizations in healthcare requires having a command of a core set of management tools and techniques, and a practical understanding of how to apply them in this unique sector.

Technology

Embracing the transformative power of technology and knowing how to understand, assess, and deploy it are imperative to future success in healthcare.

Leadership

Transformational change requires dynamic leaders, equipped with skills and behaviors to strive in complex, multi-faceted environments.
The MSHM program is a 36-credit program comprising 10 required courses, a Research Methods module, and a Capstone Project or Dissertation.
The Business of Medicine

This course is designed to provide a comprehensive understanding of the healthcare business landscape, including the various components that drive success in the industry. From crafting a clear vision and mission to navigating the intricacies of the revenue cycle, this course offers valuable insights and strategies for anyone looking to start or run a healthcare-based business. With a focus on putting the patient at the center and understanding the business behind medicine, it equips you with the knowledge and skills to navigate the healthcare industry successfully.

Compliance

This course provides a comprehensive and in-depth understanding of the compliance aspects of healthcare, giving you the tools to navigate the complex regulatory landscape with confidence. It covers key topics such as reimbursement models, credentialing and contracting, state and federal regulations, risk management, revenue cycle management, human resources, staff, and patient safety, security, and privacy, enabling you to ensure your healthcare organization is operating in compliance and mitigating risk.

Quality

There are myriad definitions and purposes for quality in the healthcare field. This course delves into the world of quality in healthcare, guiding you through the various initiatives and processes aimed at improving patient outcomes and overall excellence in the field. From understanding evidence-based medicine to exploring the principles of continuous quality improvement, you will gain a comprehensive understanding of the guidelines and regulations that drive quality in healthcare and learn how to achieve the best results for patients and healthcare organizations alike.

Utilization Management

This course will dive into the intricacies of effectively managing healthcare resources while striving to achieve the highest possible patient outcomes. We will explore innovative solutions and strategies to ensure that healthcare delivery is both efficient and cost-effective, providing you with the tools to deliver exceptional patient care while keeping a keen eye on the bottom line.

Operations in Healthcare

If compliance is the foundation or backbone of the healthcare business, then operations are its tendon, ligament, and muscle. In this course, you will gain a comprehensive understanding of the various components that make up the operations of a healthcare business, and learn how they all work together to achieve optimal patient outcomes. With expert insights and real-world examples, you will gain a valuable understanding of the inner workings of a healthcare entity.

Information Technology in Healthcare

The impact of IT in healthcare is immeasurable. This course delves into the vast and transformative impact of IT on healthcare, exploring the ways in which technology is revolutionizing medical practice management, patient safety, and clinical decision making. You will gain a deep understanding of the latest tools and technologies and learn how they are shaping the present and future of healthcare.

Graduate and Post Graduate Medical Education – Training Physicians

This course will guide you through the complex landscape of graduate and continuing education requirements in the medical profession, with a particular focus on U.S. requirements but also in relation to broader trends and challenges in healthcare internationally. You will learn about the different types and continued evolution of CME credits, board certifications, graduate medical education requirements, and healthcare administration/management offerings. You will also learn how to become an accredited provider of educational materials. With a comprehensive understanding of continuing education opportunities and requirements, this course will ensure that you know how to keep yourself and your organization current and relevant in your field. 

Medicare Risk Adjustment

The managed-care MRA model is vastly different from the FFS model. This course is designed to provide a comprehensive understanding of the MRA funding model, including its key differences from the FFS reimbursement model. You will learn about the intricacies of documentation and coding, how they are used to predict patient morbidity and mortality, and ultimately, the cost of care. Additionally, you will gain insight into how the office staff works together to support providers and ensure compliance with internal and external controls.

Blockchain for Healthcare

Blockchain technology offers a wide scope of applications and uses in healthcare. It has the potential to transform this sector putting the patient at the center of the healthcare multiverse and increasing security, privacy, and interoperability of sensitive data. It could lay the foundations of a new system for Health Information Exchange. It resolves crippling issues such as transferring and storing patient medical records securely and managing prescriptions, supply chains and billing, and it also expands healthcare research in fields such as genetics and aging. While it doesn't fix all the problems, this ground-breaking, ever-changing technology provides great expectations for experimentation, innovation, and proof-of-concept testing. This course will walk you through how blockchain works, allow you to explore its many potential uses, and understand when the use of such technology is desirable.

Leadership in Healthcare

Successful leadership is vital in healthcare. Leaders create and sustain the vision and strategy of an organization and are key to overall employee and patient satisfaction. In this class, we will study key competencies of leadership in healthcare to meet changing industry demands and needs. We will approach this by discussing the topics of communication, negotiation, change management, and innovation. We will learn about how to lead teams, social and emotional intelligence, stress management, and motivation.

Research Methods

This course is designed to provide students with a comprehensive understanding of social science research methods. By advancing through the steps of framing a research question, conducting a literature review, formulating hypotheses, and examining various data collection and analysis techniques, students will gain the skills and knowledge needed to conduct their own research at the graduate level. A variety of research designs and methodologies will be presented, allowing students to gain a deeper understanding of the field and make informed choices about their own research projects.

Capstone Project/Dissertation

The Capstone Project is the ultimate opportunity to showcase the skills and knowledge acquired throughout the program. It is designed to provide a platform where participants can integrate all of their learnings and apply their newfound expertise to an impactful project.
Meet your Faculty
Learn from industry leaders who bring their experience to the classroom.
Our faculty are a diverse group of accomplished professionals and educators who share a passion for driving growth and transformation in individuals and organizations. They are leading practitioners with real-world experience and dedicated educators who provide tailored learning experiences to our students.
Cost and Fees
The Master of Science in Healthcare Management program fees are as follows:
45 000

USD

36

Credits

1 250

USD per Credit
Vedere Institute offers scholarships to incoming students based on specific criteria for selection including academic achievement and financial need. All students are eligible to apply for these scholarships.
Please find more information here.
Requirements for Admission
An undergraduate degree from an accredited Institution – with a preferred GPA of 3.0 or higher

A minimum of five years demonstrable work experience

Completed application form which includes personal statements/essays

Resumé

Official academic transcripts and certificates

Letters of recommendation including one from your current employer

TOEFL/IELTS or other English language proficiency test if applicable
Prospective students interested in applying to the program must complete the following steps:
 Complete the initial application form, submit your application fee of $90, and conduct an initial conversation with a member of the Vedere Institute team

Complete the full application form and submit supporting documents and information, including English proficiency test scores if applicable
Attend a virtual admissions interview with a member of the Vedere Institute team